Our Roots — How We Started
Just before the 2020 pandemic, an informal group began to meet monthly after Whatcom County Executive Satpal Sidhu's public call to plant one-million trees in Whatcom County.

In early 2021 we formed the Whatcom Million Trees Project nonprofit. We modified the goal to include tree protection with tree planting. Why? Conserving mature, diverse, naturally-regenerated forests (not harvest-style timber plantations) is crucial to addressing climate and biodiversity crises NOW.

Healthy, diverse forests — particularly in key locations such as Nooksack Watershed and Lake Whatcom Watershed — are our best defense to lessening now-common local floods, water quality issues, extreme heat domes, and potential fires.
The thousands of young native tree seedlings Whatcom Million Trees Project will plant are essential, too. They build a brighter future for everyone in this region. Many will be in community parks and neighborhoods; others will be further out in rural lands. Although these young trees won't add significant climate/biodiversity benefits for a few decades, tree-planting is a wonderful hands-on way to build hope and empowerment in everyone.

We're not the first to take on such an ambitious challenge. King County, Washington, for example, fueled largely by a $700K grant successfully completed in 2020 a similar tree initiative.
We didn't begin with such grant support, but Whatcom Million Trees Project is 501c3 certified nonprofit. Please donate today to help ensure a more hopeful and resilient future for everyone in Whatcom County!
Our Values
Local.
We're focused 100% on producing results within Whatcom County.
Independent.
We're independent from any particular individual, group, or agency.
Innovative.
We're fearlessly innovative to form new types of projects & partnerships.
Collaborative.
We actively team with other nonprofits, agencies, and groups as needed.
Open.
We listen well to discover core needs for successful results.
Justice-Seeking.
We seek to address imbalances suffered by diverse groups.
Science-Based.
We rely on science to inform us via local experts & wide-ranging research.
We're ALL IN to fulfill our mission with the highest integrity. That's our heartfelt promise to you.
Our Mighty Administrative Crew
As an all-volunteer non-profit, we unite individuals who are passionate about trees and nature and who have a desire to make a difference in our community and the wider world. Together our volunteers are committed to helping address climate change, minimize biodiversity loss, and preserve the beauty of our region. Volunteers are vital to our mission!

Below are our key administrative volunteers. In addition, we have a few other admin volunteers who plug in for short-term needs needs, plus 300+ volunteers on our on-call list for work parties.
Michael Feerer, Executive Director
Michael has a long history of creating innovative projects for social good. He was one of the first "user-based design" architects/planners. Using social science techniques and broad-based research to inform design, he planned over 1 million square feet of civic & medical facilities, mostly in Southern California. Later he authored Premiere with a Passion, the bestselling first "bible" for desktop video which helped to democratize creative video-making. Then he founded Pixelan to provide the world's first non-violent visual effects for video/film. Locally, he served for many years on the Board of Cedar Tree Montessori School. A dedicated Dad (and now granddad!), voracious reader, and avid wilderness explorer, he's hiked the equivalent of 1.5x times around Earth. You can learn more about him here.
Lauren Fritzen, Blog Contributor
Lauren Fritzen is a writer/editor from Bellingham with a penchant for running, hiking, birding, and trail meandering. She's most at home among the trees or on the waters of the Salish Sea, and loves sharing stories about local people and organizations doing their part to protect and preserve this magical corner of the world.
Allene Gail, Marketing Communications
A life-long Washingtonian, Allene curates our newsletters and plants trees. Her background is in technical writing. At her "cabin in the woods" in Sudden Valley, she often rehomes volunteer seedlings, replanting them in pots or community spaces. A world traveler, "Trees mean home to me. In whatever country I find myself, I seek out the woods to remain connected to my roots."
Kirsten Lutes, Content Editor
Kirsten teaches writing to international students at Whatcom Community College. She edits/refines our educational resources that we offer to the community, such as our comprehensive Whatcom Tree Planting and Care Guide which all WMTP newsletter subscribers automatically receive as an awesome bonus for subscribing.
Mallorey Roe, Social Media/Volunteer Coord.
With wonderful skills in social media and photography, and terrific writing talent, Mallorey enjoys inspiring volunteers to hope and action. She loves Bellingham and its trees, and was previously a climate activist in Eugene, Oregon. She feels very lucky to get to live right by a beautiful forest with her spouse and three cats.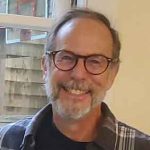 Jim Smith, Planting Coordinator
After working for decades as an attorney in housing and land use law, in 2001 Jim left law to start his residential landscape business. Recently new to Bellingham, he's fascinated by our trees and by forest science about how trees communicate and share nutrients. He's drawn to WMTP to plant more trees and to help preserve and enlarge forests.
We're always looking for more folks. Interested in joining our efforts? Please see our Volunteering page to learn about the numerous ways you can help — even if you only have a few hours per month to give.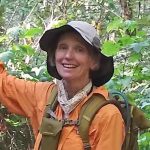 Judith Akins
During 2020, Judith was instrumental in sustaining the small working group exploring the Million Trees idea before our non-profit was established. Her passion is the environment and ensuring her grandchildren and all children have a world to live in that is healthy and thriving. Since retiring from teaching and coming to WA State in 2011, she has actively worked to stop the assault on the climate and to save remaining species. Beside serving on our Board, she's focused on achieving old growth tree protection/advocacy within our County and special projects for us.

Judith is active with many groups — Sierra Club, League of Women Voters, RE Sources, etc.. Having hiked hundreds of miles through the Pacific Northwest, trees have clearly won her heart.
Kyle Bickel
Kyle is a retired physician, entrepreneur, and athlete with a lifelong passion for the outdoors and environmental advocacy. He was Director of the Hand Surgery Department at John Hopkins University before becoming founder/CEO of The Hand Center of San Francisco (1999-2021). He co-created medical technology startups and was a product designer/consultant for Specialized Bicycles. He has long supported The Natural Resources Defense Council as a member of The President's Council and advisor to the Northern CA Chapter, and was a member of Physicians for Social Responsibility. Upon retiring, Kyle and his family moved to Bellingham, where he actively advocates to protect and preserve the natural environments of Whatcom County.

Kyle's outdoor passions include bicycling, skiing, hiking, surfing, trail running, and gardening.
Amy Brown
At City of Bellingham, Amy until recently was the Parks & Recreation Parks Volunteer Coordinator. In that role for several years, she managed stewardship and ecological restoration programs for people of all backgrounds. That work included fieldwork training of volunteer work teams of tree planters in City Parks.

Previously she worked at North Cascades Institute for 12 years, developing and leading youth leadership and wilderness conservation programs. She has a M.Ed. in Environmental Education and Nonprofit Administration from Western Washington University and a BA in Environmental Science from American University. Amy is happiest whitewater kayaking, mountain biking, gardening, and spending time with her kids.
Tim Douglas
In his many past roles — WWU Dean of Students, Mayor of Bellingham, member of Governor Locke's cabinet, Peace Corps Director in Russia — Tim Douglas always has valued community-building, public service and a deep respect for our environment. It's no surprise the Whatcom Million Trees Project captured his immediate attention.

"It's rare to find a community project that builds a huge legacy for successive generations: natural beauty in the place we live, much cleaner air and water, restored habitat and wildlife biodiversity, a fulfilling sense of place and the recreational lifestyle so many of us love. Maybe best of all, we can each tailor our Million Trees involvement to personal interests, time and resources available. What a perfect fit for Whatcom County, our towns and cities as we tackle climate change. Let's roll up our sleeves!"
Kim Lund
Kim has traveled a circuitous path from an engineer employing data science to a nonprofit leader. She began her career as a chemical engineer for Intel Corp. and later left to become a marketing director at a dot-com venture. She translated this learning into a successful small business start-up developing a skillset that complements nonprofit executive stewardship. Kim spent several years supporting the efforts of CommunityWise Bellingham, a non-partisan NGO analyzing community impacts of the proposed Gateway Pacific Terminal facility. Most recently, she led the Bellingham Public Schools Foundation which supports equitable and excellent public education for Bellingham's children. She has a Leading Sustainable Corporations certification from Oxford's Said School of Business.
Kim is happiest when recreating with friends and family and reconnecting to self in the PNW's wild places.
Laura Weiss
Laura has devoted her life to the environment. Before retiring in 2018, she founded GO Box, a reusable takeout container venture in Portland. Previously she was a Regional Sustainability Manager for 30 colleges/universities in the west, Program Director for the Oregon Environmental Council, a Regulatory Toxicologist for the WA Department of Ecology, and worked for several environmental nonprofits. She has an MBA in Sustainable Business from Bainbridge Graduate Institute and a Master of Public Health from UC Berkeley.

Laura currently serves on the Boards of the Community Food Coop, Animals as Natural Therapy, the Lake Whatcom Watershed Advisory Board, and Walk & Roll. In her free time, she enjoys travel, cross-country skiing, hiking with her dogs and husband, and yoga.
Frank Corey, Whatcom Conservation District, Resource Coordinator
Frank coordinates riparian restoration projects at WCD in cooperation with Whatcom County Public Works. He previously worked for the Washington Conservation Corps, implementing riparian restoration projects for the Nooksack Salmon Enhancement Association. Before that he spent many years growing and planting trees in nurseries and as a landscaper. Frank has lived in Whatcom County for 20 years. He has degrees in Landscape Horticulture and Business Administration.
Ellen Murphy, Whatcom Climate Advisory Committee, Chair
Ellyn Murphy has a MS in Forest Science and PhD in hydrology. She spent most of her career at Pacific Northwest National Laboratory in Richland as a research hydrologist, division director and program manager. Later, she focused on science communication and strategic initiatives related to environment/energy issues. Now retired in Bellingham, she volunteers in climate efforts locally. Ellyn's primary interests are in climate change and its impact on fresh water and forests, as well as building sustainable communities.
Paul Thompson, Consulting Arborist, Urban Forestry Services | Bartlett Consulting
Paul has been engaged in urban forest management and arboriculture for most of his professional career. At Mount Vernon-based Urban Forestry Services | Bartlett Consulting for the past 10 years, he has worked on tree risk assessments, veteran tree management, tree inventories, tree preservation/monitoring, urban forests and tree management plans — for non-profits, public housing and schools, transit and utility projects, and commercial and private clients in our region.
Satpal Sidhu, Whatcom County Executive
During his election campaign, Satpal introduced to the community the idea of planting one-million trees locally. (Note: WMTP is not only tree planting… our mission is three-pronged: Planting, Protecting, and Connecting.) Currently serving his first term as Whatcom County Executive, Satpal's past professional experience includes work as an engineer, project manager, business executive, educator and small business owner. He was recognized by two Washington State governors for his achievements in workforce development as Dean of Engineering & Trades at Bellingham Technical College. Satpal grew up in India and worked in Canada before moving to Whatcom County in 1988. He and his wife Mundir, married for 40 years, have lived in Lynden for 30 years. They have three grown sons who attended Meridian schools.