Upcoming Events
Past Events
Don't Miss An Event — And Get a Cool Bonus!
Subscribe to our newsletter and you'll receive our comprehensive Whatcom Tree Planting & Care Guide!
July 15: Birchwood International Market Fun!
Cool tree tales, giveaways, and Q&A!
Come visit our booth at the diverse, family-oriented Birchwood International Market on July 15, 6pm to 8pm. Compelling tree tales will be woven by local storyteller Kelvin Saxton Pablo, and we'll raffle some awesome outdoorsy gifts and give away plenty of cool freebies. We'll answer questions and highlight how Birchwood (and other neighborhoods) can get involved with us to enhance and expand their urban tree canopy.
July 23: WMTP Work Party @ Julianna
Fresh air & fun — for the trees!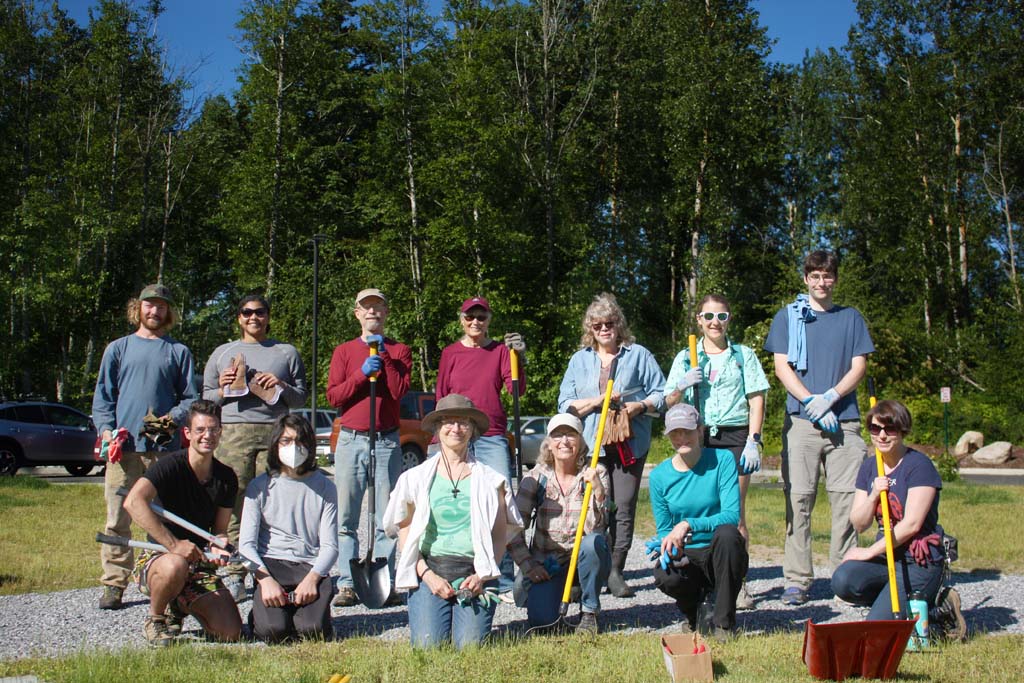 Summer is a slower time than other seasons for outdoor work parties, but they continue as we prepare local park areas for our upcoming Fall/Winter tree plantings. Currently scheduled is:

— Saturday, June 23 9am-12 at Julianna Park in the Cordata neighborhood
Outdoor work parties are the perfect excuse to have hands-on fun, meet cool folks, enjoy fresh air, and contribute to an important cause! Feel free to invite a friend too! Click here to join or to be notified of future WMTP work parties.
July 31: Sacred Earth Fair
Tree tales, giveaways, and more!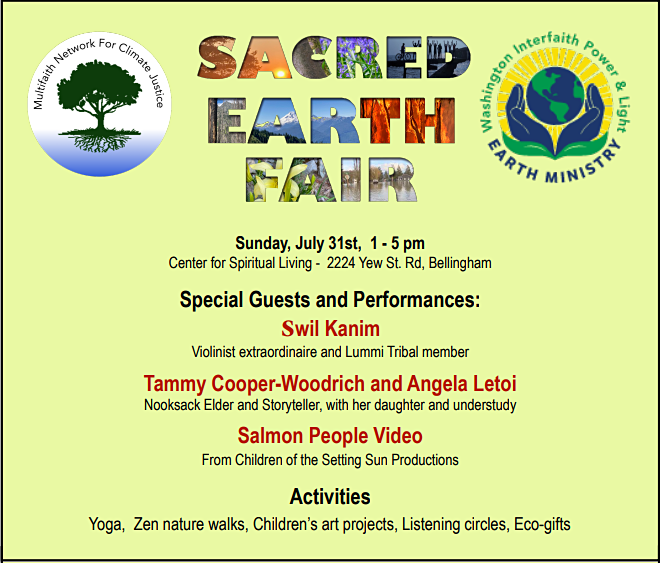 Come visit us at the Multifaith Network for Climate Justice amazing Sacred Earth Fair on Sunday July 31, 1pm to 5pm at the Center for Spiritual Living on Yew Street. Wonderful indigenous performances will be on the main stage, plus a WMTP presentation/Q&A session. At our booth, we'll have family-friendly tales by a nature story-teller, plus we'll raffle some awesome outdoorsy gifts and give away plenty of cool freebies. You'll learn how individuals and neighborhoods can get involved with Whatcom Million Trees Project to enhance and expand their urban tree canopy.
June 2022: Forest Walking with Jane Billinghurst
Together with Village Books and the North Cascades Institute, Whatcom Million Trees Project brought Jane Billinghurst to Bellingham. She's co-author with Peter Wohlleben of Forest Walking: Discovering the Trees and Woodlands of North America. (Here's an in-depth book review by Lauren Fritzen.) First Jane discussed the book on Zoom, then a few days later led a fascinating forest walk in Hundred Acre Wood in Bellingham. Everyone gained a new appreciation of what is to be found under and on trees, even on familiar hikes. Each attendee's $10 ticket funded Whatcom Million Trees Project to successfully plant one tree locally.
June 2022: Tree Celebration in Fairhaven!
We had a fun-filled afternoon of music, story-telling, and arboreal education centered around the beautiful Olive Plane tree next to the Firehouse Arts & Events Center in Fairhaven. Attendees learned how John the Arborist carefully tends this majestic tree and about recent progress of Whatcom Million Trees Project. Compelling tree tales were woven by local storyteller Kelvin Saxton Pablo, and live music was provided by the JP Falcon Grady Band. Plus there was a cool raffle and many giveaways. A fun celebration for everyone! View more photos from the event here.
April 2022: Youth v Gov and Inhabitants Films
During April as part of Earth Week, the Bellingham Human Rights Film Festival brought two powerful, inspiring films to the Pickford Film Center: Inhabitants and Youth v Gov. Whatcom Million Trees Project co-sponsored both events together with several other nonprofits. WMTP also took part in post-film panels/discussions.
Jan-March 2022: Whatcom Reads Events
Every year, Whatcom READS selects a worthy book and weaves a fantastic series of events together that coalesce our community around a singular story. Whatcom READS chose Greenwood by Michael Christie for its 2022 selection. WMTP led or participated in four events:
Tapping Bigleaf Maples for Syrup: How the Impossible Became Possible (Jan. 29).
Some of the rarest and tastiest maple syrup is tapped right here in Whatcom County sustainably! Attendees heard this Acme farm's history (and future plans) from owner Neil McLeod, Whatcom Million Trees Project, and Peak Sustainability Group during an on-site tour and tasting.
A Million More Trees for Whatcom County? YES! (Feb. 17). Executive Director Michael Feerer presented the why, who, what, and where and how of Whatcom Million Trees Project's exciting initiatives to plant and protect one-million trees in Whatcom County. Watch
The Woodstock Farm Story – and its Fruitful Future (Feb 24). Michael Feerer, Steve Gaber, and Tim Walh presented the storied history of this beautiful 16-acre City of Bellingham park along Chuckanut Drive, plus its orchard restoration and tree planting that's in-progress by Whatcom Million Trees Project.

Chuckanut Radio Hour Interview. (March 3). During the first LIVE (with audience) Chuckanut Radio Hour since the pandemic, Michael Feerer led a lively interview with Greenwood author Michael Christie. Here's the podcast. If you're a fan of the book, it's well worth a listen! Enjoy!
Sept. 26, 2021: Old Growth Dedication at Baker Lake
Whatcom County's FIRST old growth protection! As another City of Bellingham Climate Action Week event, on September 26th, 2021 Dr. Sarah Horsley from the Old-Growth Forest Network (with support from Whatcom Million Trees Project and Mt. Baker Chapter of the Sierra Club) publicly honored the old-growth forest along Baker River Trail. Old Growth Forest Network is a national nonprofit dedicated to establishing a national network of old-growth forests.