Upcoming Community Events
Past Events
Don't Miss An Event — And Get a Cool Bonus!
Subscribe to our newsletter and you'll receive our comprehensive Whatcom Tree Planting & Care Guide!
WMTP Work Parties Galore!
Fresh air & fun — for the trees!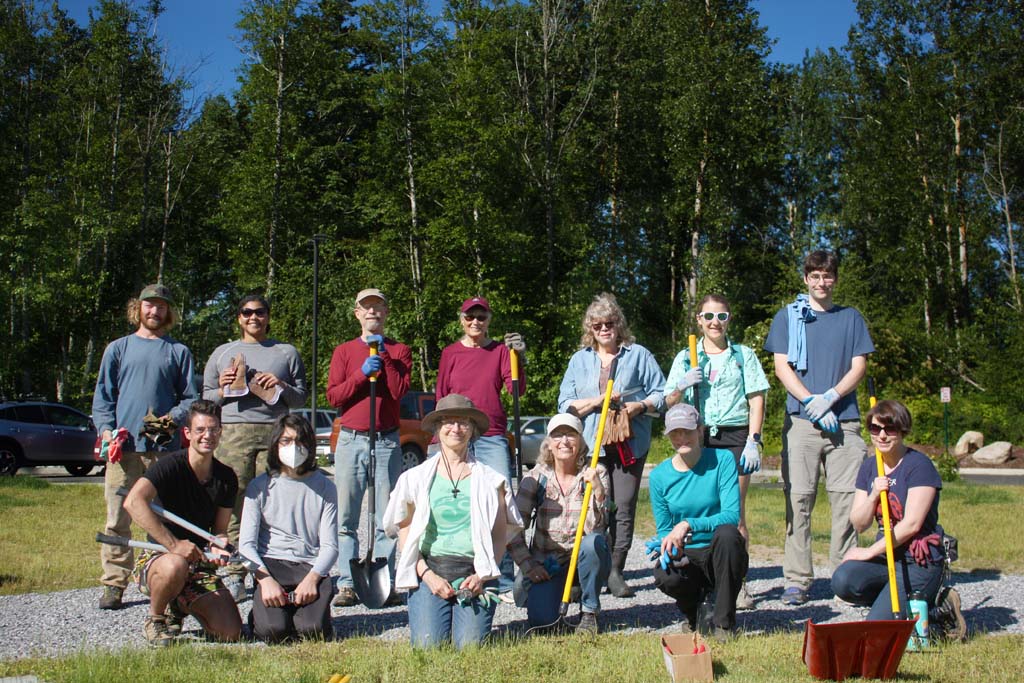 Fall is when we ramp up our work party pace to approximately twice per month! During this time, we continue to prepare local park areas for our upcoming Feb./March tree plantings. And we continue to remove silent-killer English ivy from existing mature trees in local parks and Greenways.
Outdoor work parties are the perfect excuse to have hands-on fun, meet cool folks, enjoy fresh air, and contribute to an important cause! Feel free to invite a friend too! Click here to view the all the upcoming work party dates and/or to join one. Thanks!
WMTP @ Fairhaven Plant Sale!
Get seedlings & info at our booth!

Mark your calendar for this popular annual event that will be 10am-3pm on Saturday March 25. (More details coming soon!)
October 2022: Jaw-Dropping Elemental Pickford Film Shows
WMTP together with the Pickford Film Center brought three shows (including one that SOLD OUT!) of the jaw-dropping film Elemental: Reimagining our Relationship with Wildfire as part of the Pickford's popular annual DOCtober film series.
Relevant for ALL homes in Whatcom County (urban or rural) as we prepare for an increasingly hotter future, this important film demonstrated how healthy, diverse, naturally-regenerated forests fare so much better in wildfires than planted timber forests. How wildfire-affected forests should not be clear-cut afterwards. And how clearing trees on a home site isn't the most effective strategy to FireWise a residence. Q&A's after the show with local wildfire resiliency experts rounded out our informative offering.
A big thanks to the Pickford, as well as to Whatcom Conservation District and Re Sources, who helped make this well-attended event happen.
September 2022: Become A Neighborhood Tree Ambassador (Webinar + Work Party)
During the City of Bellingham's 2022 ALL IN for Climate Action week, we presented a Zoom webinar/Q&A about how residents can protect mature trees in their neighborhood — to strengthen their area's climate resilience. We showed how to…
find the most climate-significant trees in your neighborhood;
recognize and safely/easily remove silent-killer English ivy from tree trunks;
organize small neighborhood teams to remove such invasives;
advocate for big tree policy protections, and more.

Our webinar was followed by a well-attended Sunday work party at Cornwall Park that successfully removed invasive English ivy from 22 trees!

We hope our CAW events raised awareness about how Bellingham's large, mature trees are an integral part of needed climate action in our community. Technology/energy system changes alone won't solve the problem. Responding to climate change means not only reducing our carbon emissions, but capturing what's already increasingly in the atmosphere. Trees play a major role in the latter and enhance our climate resilience to floods, heat waves, etc.
August 2022: Climate Crisis and Your Inner Landscape
Local psychotherapists Elizabeth Kerwin and Colleen Semple facilitated this in-person, outdoor event. A dozen participants shared with one another their feelings of grief and anxiety and how they are coping inwardly with the grave implications of the climate crisis. The ticket revenue was donated to WMTP.
July 2022: Sacred Earth Fair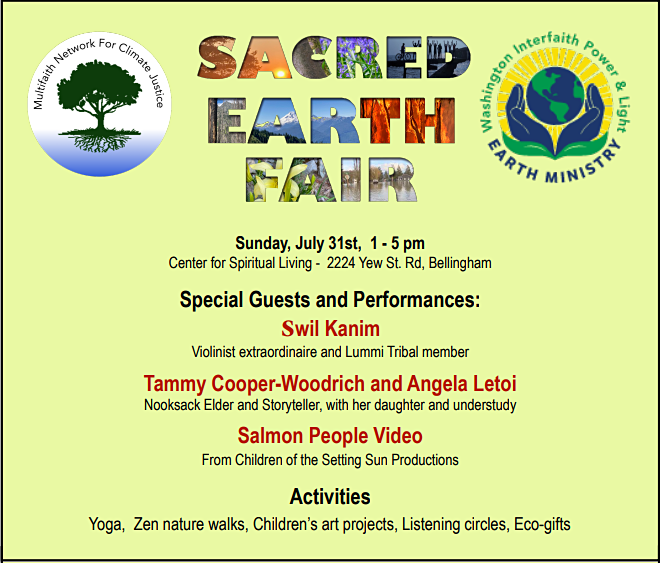 We enjoyed being one of the 40+ nonprofits and other organizations with booths at the Multifaith Network for Climate Justice amazing Sacred Earth Fair on July 31 at the Center for Spiritual Living on Yew Street. We showed how individuals and neighborhoods can get involved with Whatcom Million Trees Project to enhance and expand their urban tree canopy.
June 2022: Forest Walking with Jane Billinghurst
Together with Village Books and the North Cascades Institute, Whatcom Million Trees Project brought Jane Billinghurst to Bellingham. She's co-author with Peter Wohlleben of Forest Walking: Discovering the Trees and Woodlands of North America. (Here's an in-depth book review by Lauren Fritzen.) First Jane discussed the book on Zoom, then a few days later led a fascinating forest walk in Hundred Acre Wood in Bellingham. Everyone gained a new appreciation of what is to be found under and on trees, even on familiar hikes. Each attendee's $10 ticket funded Whatcom Million Trees Project to successfully plant one tree locally.
June 2022: Tree Celebration in Fairhaven!
We had a fun-filled afternoon of music, story-telling, and arboreal education centered around the beautiful Olive Plane tree next to the Firehouse Arts & Events Center in Fairhaven. Attendees learned how John the Arborist carefully tends this majestic tree and about recent progress of Whatcom Million Trees Project. Compelling tree tales were woven by local storyteller Kelvin Saxton Pablo, and live music was provided by the JP Falcon Grady Band. Plus there was a cool raffle and many giveaways. A fun celebration for everyone! View more photos from the event here.
April 2022: Youth v Gov and Inhabitants Films
During April as part of Earth Week, the Bellingham Human Rights Film Festival brought two powerful, inspiring films to the Pickford Film Center: Inhabitants and Youth v Gov. Whatcom Million Trees Project co-sponsored both events together with several other nonprofits. WMTP also took part in post-film panels/discussions.
Jan-March 2022: Whatcom Reads Events
Every year, Whatcom READS selects a worthy book and weaves a fantastic series of events together that coalesce our community around a singular story. Whatcom READS chose Greenwood by Michael Christie for its 2022 selection. WMTP led or participated in four events:
Tapping Bigleaf Maples for Syrup: How the Impossible Became Possible (Jan. 29).
Some of the rarest and tastiest maple syrup is tapped right here in Whatcom County sustainably! Attendees heard this Acme farm's history (and future plans) from owner Neil McLeod, Whatcom Million Trees Project, and Peak Sustainability Group during an on-site tour and tasting.
A Million More Trees for Whatcom County? YES! (Feb. 17). Executive Director Michael Feerer presented the why, who, what, and where and how of Whatcom Million Trees Project's exciting initiatives to plant and protect one-million trees in Whatcom County. Watch
The Woodstock Farm Story – and its Fruitful Future (Feb 24). Michael Feerer, Steve Gaber, and Tim Walh presented the storied history of this beautiful 16-acre City of Bellingham park along Chuckanut Drive, plus its orchard restoration and tree planting that's in-progress by Whatcom Million Trees Project.

Chuckanut Radio Hour Interview. (March 3). During the first LIVE (with audience) Chuckanut Radio Hour since the pandemic, Michael Feerer led a lively interview with Greenwood author Michael Christie. Here's the podcast. If you're a fan of the book, it's well worth a listen! Enjoy!
Sept. 2021: Old Growth Dedication at Baker Lake
Whatcom County's FIRST old growth protection! As another City of Bellingham Climate Action Week event, on September 26th, 2021 Dr. Sarah Horsley from the Old-Growth Forest Network (with support from Whatcom Million Trees Project and Mt. Baker Chapter of the Sierra Club) publicly honored the old-growth forest along Baker River Trail. Old Growth Forest Network is a national nonprofit dedicated to establishing a national network of old-growth forests.