2022-23 Tree Planting Projects
Tree Protection/Conservation
Please Donate Today to Support Our Tree Projects
Want to
volunteer

in any of these tree projects? Join us to make a lasting, visible difference in our collective well-being & future. Please sign up!
Don't Miss Our Project News — And Get a Cool Bonus!
Subscribe to our newsletter and you'll receive our comprehensive Whatcom Tree Planting & Care Guide!
Woodstock Farm Park Enhancements
Orchard Restoration & Conifers for a National Historic Register Site

Our work has begun at beautiful Woodstock Farm Park on the bay south of Fairhaven, which is now listed in the National Historic Register!
We're reforesting an area on the northwest side of the site. During several work parties, we have removed invasive blackberry and planted douglas firs. We'll plant the remaining 200+ native trees in late Fall 2022. The goal is to integrate with the adjacent forest along biologically diverse Northeast Chuckanut Bay (aka "Mud Bay"). A generous donation from the Royal Oak Chapter of the Daughters of the British Empire funds our planting work at this site.
On the other side of the park, we're also helping to restore the Park's heirloom apple/pear orchard. We cleared invasive blackberry and are assisting Park Steward Steve Gaber to graft/re-grow heirloom starts to infill where orchard trees have been lost over time.
Want to volunteer in a work party here? Meet other cool tree-lovers, enjoy fresh air, have fun, and contribute to a cool project and important cause? Please join our work party contact list!
Cordata Park Tree Plantings
New Park Trees Will Capture Carbon & Provide Much Needed Shade

Whatcom Million Trees Project has regularly held work parties at the City of Bellingham's Cordata Park. Our focus is on the east edge of the park (see bright green areas on map above) along a backdrop of quaking aspens and other mature trees on adjacent properties..
We've been removing invasive blackberry to open up more tree planting area. In late Fall we'll plant 350+ native trees there. In coordination with COB Parks landscape architects, it will be a "right tree, right place" mix of native conifers and deciduous trees that will capture carbon and provide much-requested shade for hot summers!
Want to volunteer in a work party here? Meet other cool tree-lovers, enjoy fresh air, have fun, and contribute to a cool project and important cause? Please join our work party contact list!
Julianna Park Assisted Reforestation
Nudging Degraded Woodlands Into Eventual Conifer Splendor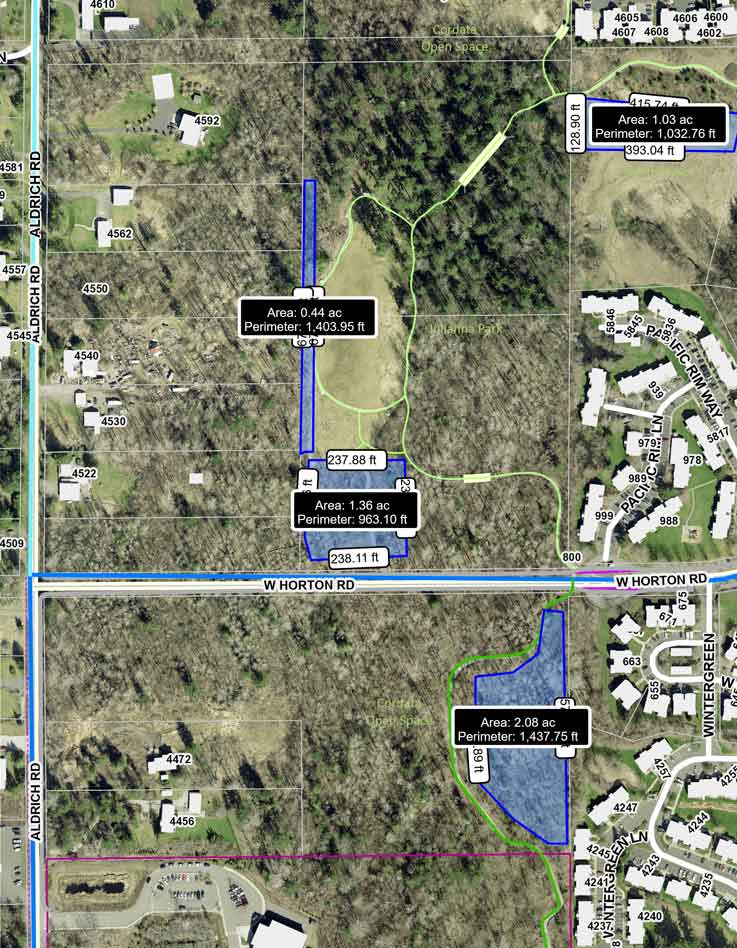 Together with City of Bellingham Parks & Recreation Department staff and our consulting arborists, we've identified four areas for tree planting within Julianna Park. (See blue areas on map above.)
Urban stresses and climate impacts are restricting the forest's ability to naturally regenerate itself. Additionally, invasive Himalayan blackberry has been overtaking potential areas for trees. During 2022, we've been removing invasives and planning our later work. Mid-Fall, in four areas of the park we'll begin to plant hundreds of carbon-capturing conifers, which were prevalent there a century ago. We'll thn monitor the seedlings periodically to ensure the seedlings grow and thrive.
Want to volunteer in a work party here? Meet other cool tree-lovers, enjoy fresh air, have fun, and contribute to a cool project and important cause? Please sign up TODAY!
Squalicum Creek Park Slope Infill
Infilling Trees On The Park's Western Slope

This Fall 2022, we'll remove grasses and invasives and then plant 100+ trees along the western sloped edge of Squalicum Creek Park. (See yellow area in map image above.).
Landscape improvements along this slope have long been requested by neighbors. Although the quantity of new trees (and carbon capture benefits) is not huge, urban park enhancements like this provide clean air, water/flood resilience, expanded habitat, shade for hot summer days, and many other benefits
Although the quantity of new trees (and carbon capture benefits) will not be huge, urban park enhancements complement well reforestation elsewhere in Whatcom County. The trees will provide more clean air, more water/flood absorption capacity, expanded habitat for a wide range of critters, additional shade on increasingly hot summer days, and other benefits. Best yet, these trees are easily accessible and enjoyed by virtually everyone.
Want to volunteer in a work party here? Meet other cool tree-lovers, enjoy fresh air, have fun, and contribute to a cool project and important cause? Please sign up TODAY!
Lummi Island Curry Preserve Reforestation
Reforestation of a Key Island Preserve

We love our partnership with Lummi Island Heritage Trust! During March 2022, we worked together to plant 390 trees within Curry Preserve on Lummi Island. This was the first step of a much larger (over 10 acres) restoration of forest on Lummi Island over the next few years, which we will continue to support and participate in.
We look forward to a long and bountiful partnership with Lummi Island Heritage Trust! Want to help?Volunteers will be needed for future work parties events there. Please sign up TODAY to be notified when they are announced!
Galbraith/Padden Parking Reforestation
Replacement Trees Around New Parking

During 2022, Whatcom Mountain Bike Coalition partnered with the City of Bellingham to construct a new 184-stall parking lot on the northeast corner of Lake Padden Park. The lot provides much-needed parking to popular Galbraith Mountain bike trails. Unfortunately, removal of many mature conifer trees was required.
In response, Whatcom Million Trees Project has developed a 240-tree replacement plan for the site. (See above.) The western red cedars, douglas firs, maples, and other species we plant will over time match the surrounding mature forest of Lake Padden. For WMBC, these trees will be in addition to their required commitment to plant and manage more Galbraith Mountain conservation easement areas.
We hope to hold a family-oriented celebration to plant the entire site in December. The event will empower kids, increase awareness about trees, inform about bicycle safety, and highlight responsible forest stewardship. Please subscribe to our newsletter to be notified of this cool upcoming event!
Legacy Tree Protection in Lake Whatcom Watershed
Protecting Critical Legacy & Old-Growth Trees — For A More Sustainable Future

Washington State Department of Natural Resources (DNR) manages (read: periodically logs) thousands of acres of trust lands in the Lake Whatcom Watershed. Part of the proceeds pay beneficiaries such as school districts and universities.
Although DNR must avoid impacts on a few endangered species and ensure logging roads and tributaries have buffers, clear-cuts followed by monoculture tree plantings do not grow into healthy habitats — and negatively impact Lake Whatcom's water quality. Lake Whatcom provides drinking water to 100,000+ people and is one of the very few remaining unprotected drinking water reservoirs in the state.
Worse, DNR clear-cuts often occur in our region's few remaining natural forests that hold 'legacy' trees ("almost" old-growth, thus 80-120 years old). Such mature forests are the most potent natural way to address the increasing dire impacts (floods, heat domes, etc.) of climate & biodiversity crises on our community.
Together with other nonprofits, our advocacy for these forests (especially the "Bessie" parcel which we well-publicized) during 2021-22 pushed DNR to set aside 1,400 acres of the Lake Whatcom Watershed parcels for their first-ever Carbon Initiative. Thus those healthy, bio-diverse, mature forests will be preserved — potentially for perpetuity. Yay! (This conservatively is estimated to be 280,000 trees saved in our watershed!)
WMTP is not anti-logging. Our society has a continued demand for wood. Wood products CAN be part of a more sustainable future, especially when harvested responsibly. But that is not what's occurring, nor is our drinking water watershed appropriate for such clear-cuts.
Interesting in helping us advocate for more watershed legacy tree protection? Please contact us!
COB Urban Tree Protection Interim Policies
Urgent Interim Policies to Reduce the Loss of Large Urban Trees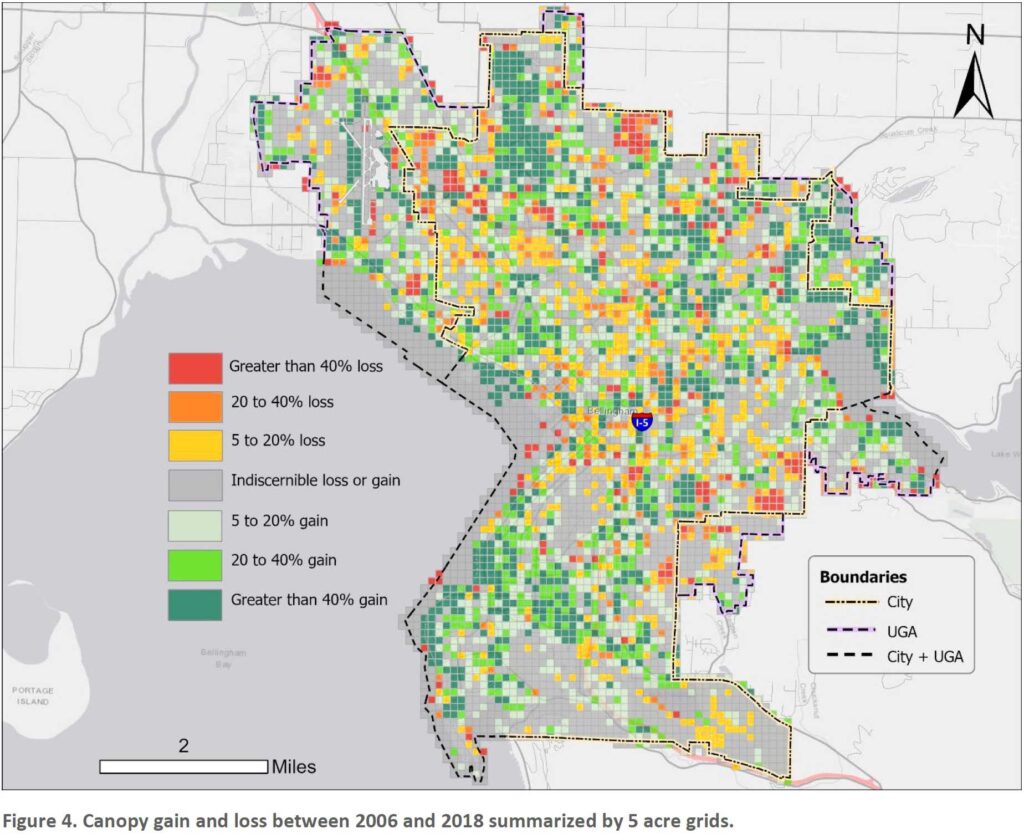 In an era of unprecedented, increasing climate impacts locally, as well as significant biodiversity loss, we urgently need to prevent further loss of urban trees — especially large, mature native trees which provide multiple benefits to our community.
Unfortunately, Bellingham lags behind in this regard compared to many other Washington cities. The City's Urban Forestry Management Plan process currently underway may eventually "catch up." However, with 1.5 to 2+ more years remaining until its final recommendations are considered by City Council, our community simply cannot afford to wait. The longer we wait, the more irreplaceable trees we will lose. Negative impacts of this loss are increasing, reducing our quality of life. Inaction is causing significant harm to our community.
We therefore have created an interim tree protection policy recommendation document that complements and supports the City's longer planning process, but speeds up our community's engagement with urgent policy ACTION now — especially regarding large, mature urban trees.

We developed our recommendations by comparing other Washington municipal tree ordinances with Bellingham's existing regulations, reviewing past public forums and City Council discussions about trees, and conversing with COB staff and community members.

We are currently reviewing our report with City policymakers and departments. Soon we will post the final report on this website. Stay tuned! Interesting in helping us advocate for more urban tree protection? Please contact us!
Lake Overlay District Tree Regulations
New Rules to Limit Excessive/Unauthorized Tree Removal

WMTP has worked for months with RE Sources and County staff — to develop much-needed revisions to the County's Lake Overlay District (LOD) ordinance. The LOD are special rules that private landowners must follow within the Lake Whatcom, Samish Lake, and Lake Padden watersheds.
We focused on the regulations for tree retention or removal. Retaining mature tree canopy on private lots in the above watersheds will improve our community's drinking water quality and climate resilience (to increasingly common torrential rains, heat domes, etc.). Retained trees will also continue to capture carbon and will preserve habitat to slow the loss of biodiversity in the watersheds.
Under current LOD rules, for example, a 10-acre landowner may remove 35% of their tree canopy (3.5 acres if 100% forested) for any reason. Revised, if not related to development, only up to .33 acre of tree canopy can be removed from that 10-acre property. If related to development (such as to build a home), approximately 1.5 acre of tree canopy may be removed. Penalties for unauthorized tree removal have been stiffened, too.
These significant reductions for various size lots will save thousands of trees in our local watersheds over time!
Our recommendations received Planning Commission approval in early July. Now we will work to advance their approval by Whatcom County Council. Interesting in helping us advocate for local watershed tree protection? Please contact us!
Tree Ivy Removal Teams
Protecting Our Local Trees from Deadly English Ivy

Hundreds (possibly thousands) of mature healthy trees in our communities are covered with invasive English Ivy. The plant thrives here. While rapidly spreading on the ground, English Ivy opportunistically climbs the trunks of any tree in its path and becomes a slow, silent tree killer. Every tree beset with English Ivy will die in a small number of years — no exceptions!

Trees within parks, along trails and greenways, adjacent to roads, and on private parcels are especially prone to this problem. Whatcom Million Trees Project is therefore beginning a concerted effort to remove the invasive from local trees. Small teams of WMTP volunteers armed with clippers, loppers, and small saws will initially focus on tree ivy removal in th parks and Greenways of Bellingham. Later we'll expand into other areas.
Every tree that we save will be geotagged and tracked in a database. That mapping will help us to periodically re-check each tree to ensure its long-term survival.
To magnify our volunteer efforts community-wide, we'll reach out to homeowners and neighborhood associations about the ivy problem and its easy, safe removal. Most folks can do it themselves or with minimal support from WMTP. No tree-climbing or special skills are required! (See the simple steps below.) Go Ivy Teams!
Want to join this cool tree-saving effort? Please get in touch!
How to Remove English Ivy From Trees
Wear gloves to protect yourself from the potentially irritating, gluey substance English Ivy exudes at its roots.
Use loppers – or a handsaw for thicker vines – to cut the vines at breast height on the tree trunk.
Do NOT yank on the vine remaining on the tree above that because it will damage the tree's protective bark. The higher ivy strands still on the tree will decompose over the following year and eventually fall off.
Below the cut line, gently remove the vines from the tree and the surrounding ground, creating a 6' cleared perimeter around each tree base. If possible, dig up the ivy roots, working gently to
minimize damage to the tree's surface roots.
Bag up the cut vines for proper waste removal. Do NOT casually compost! (Note: WMTP will experiment with 'air' composting at some forest sites which uses dead forest debris to lift and secure the cuttings one foot or more above ground for a few seasons to decompose via air exposure.)
Let us know about your tree ivy removal success by contacting us, telling us how many trees you helped and where. Thanks!
More Projects Will Be Announced Soon! Please Donate Today to Support Our Million Trees Mission