We already have LOTS of tree projects, with more on the way. It's a GREAT start for our five-year plan to plant & protect one-million trees in Whatcom County!
2022 Tree Planting Projects
Tree Seedling Projects
Forest Conservation Projects
Tree Projects In Development
More Projects Will Be Announced Soon! Please Donate Today to Support These Tree Projects
Want to
volunteer

in any of these tree projects? Join us to make a lasting, visible difference in our collective well-being & future. Please sign up!
Don't Miss Our Project News — And Get a Cool Bonus!
Subscribe to our newsletter and you'll receive our comprehensive Whatcom Tree Planting & Care Guide!
Woodstock Farm Enhancements
Orchard Restoration & Conifers for a National Historic Register Site
Our work has begun at City of Bellingham's Woodstock Farm — a wonderful site on the bay south of Fairhaven now listed in the National Historic Register!
One portion will be to help restore its heirloom orchard, a process that will take a few years. As a first step, we held a terrific work party in November to clear out invasive blackberry. It's one way we're assisting Park Steward Steve Gaber who is grafting/re-growing many of the heirloom trees.
Another part of our work will occur later in 2022. We'll reforest a clearing on the northwest side of the site. (Key view corridors to the bay are on the southwest, not here.) After a work party or two to remove blackberry, we'll plant conifer tree seedlings that integrate and match with the adjacent forest along the bay.
To learn more about Woodstock Farm, please join us for a special Whatcom Reads Online event (for their chosen book Greenwood) on February 24, 2022: The Woodstock Farm Story – and its Fruitful Future. We'll visually cover the park's fascinating history and our project. Details
Cordata Park Tree Plantings
New Park Trees Will Capture Carbon & Provide Much Needed Shade
Cordata Park is a wonderful recent park addition in northern Bellingham. The City of Bellingham went through an extensive community planning process to develop its plan. Phase 1 established a mix of play areas, covered spaces, and a loop trail system among many wetlands. Phase 2 is underway now. More access, parking and pickleball/tennis courts will be added.
In late 2022, we'll provide Phase 3 Enhancements. Along the east edge of the park (see lime green areas along the bottom edge of the above plan), adjacent to quaking aspens and other mature trees on adjacent properties, we'll feather into the park several dozen new trees. (see map) Many will be native conifers, but some will be much-needed shade trees for users during hot summers!
Want to volunteer in a work party for this tree project? Meet other cool tree-lovers, get plenty of fresh air, have fun, and contribute to a cool tree project and good cause? Please join our work party contact list!
Julianna Park Assisted Reforestation
Nudging Degraded Woodlands Into Eventual Conifer Splendor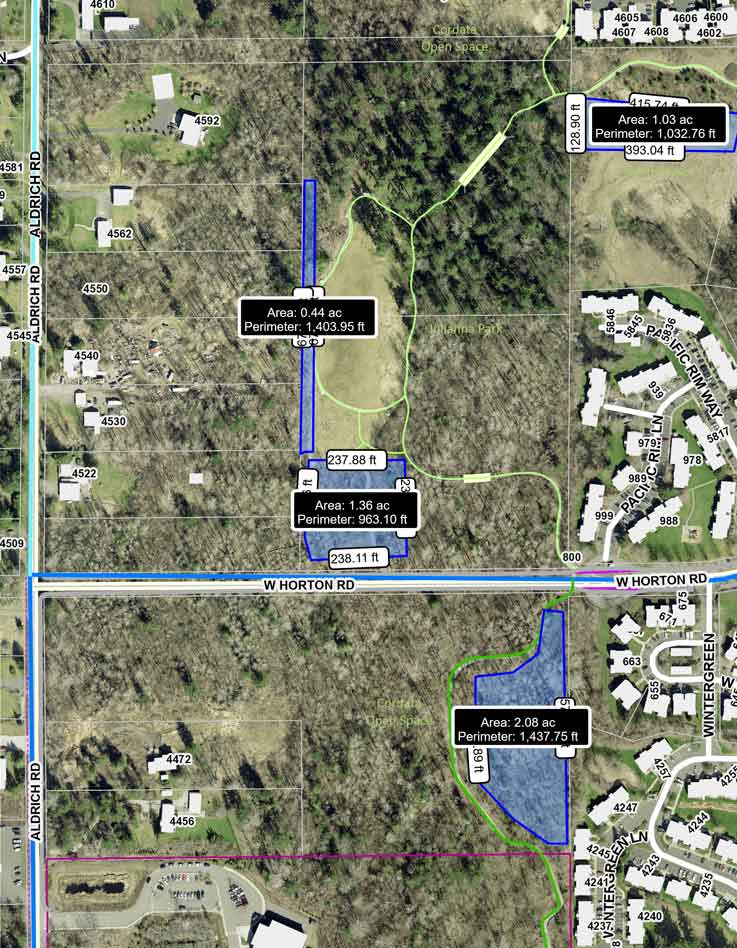 Together with City of Bellingham Parks & Recreation Department staff, we've identified three areas within Julianna Park to reforest with carbon-capturing conifers, which existed there a century ago. (See blue areas in above map.) As those trees mature, the forest will be restored to its original state and will feel similar to second/third-growth forests at Lake Padden, for example. Our planting will accelerate that process.
Approximately five acres of the park will be reforested by us during winter 2022-23. That will require approximately 2,400 new conifer trees seedlings!
Want to volunteer in a work party for this tree project? Meet other cool tree-lovers, get plenty of fresh air, have fun, and contribute to a cool tree project and good cause? Please sign up TODAY!
Other City of Bellingham Parks Tree Infills
Tree Planting Opportunities for Little Squalicum Park, Lake Padden & More
We're working with City of Bellingham Parks & Recreation Department and a donor to identify small but important tree additions within other City parks than the above, such as at Little Squalicum Park and Lake Padden.
We're doing this by taking a "boots-on-the-ground" close review of all other COB parks for opportunities to infill with small clusters of native conifers — without jeopardizing open space needs, views, or other park requirements.
Although the quantity of new trees (and carbon capture benefits) will not be huge, urban park enhancements complement well reforestation elsewhere in Whatcom County. The trees will provide more clean air, more water/flood absorption capacity, expanded habitat for a wide range of critters, additional shade on increasingly hot summer days, and other benefits. Best yet, these trees are easily accessible and enjoyed by virtually everyone.
More volunteers will be needed for work parties at Bellingham parks. Please add yourself to our contact list!
Whatcom County Parks Tree Infills
Reforestation in a Very Popular Ferndale Park — And More
Similar to our work with City of Bellingham, we're coordinating with Whatcom County Parks & Recreation Department to explore tree planting opportunities at certain County Parks. WMTP will begin to work in those parks during 2022. Invasive plant removal will be a necessary first step.
The largest project will be at Hovander Homestead Park in Ferndale. Significant reforestation — over 3,000 trees! — will be added to the eastern "cow field" 15-acre portion of the park along Nielsen Road, together with new trails and pedestrian access from the adjacent business park. The project will include compelling interpretive station(s) about how trees benefit our region (carbon capture, flood mitigation, etc.).
Bay Horizon Park in Birch Bay is another Whatcom County park with tree-planting infill potential along its northwestern edge/corner that we will develop.
More volunteers will be needed for work parties at these parks. Please join us there!
Tree-Planting NGO Collaborations
Tree Canopy Increases At a Wide Range of Whatcom County Facilities
We seek to partner with other tree-planting non-profits in Whatcom County to cost-effectively magnify their tree planting efforts. Our first awesome partnership of this type is with Lummi Island Heritage Trust (LIHT), and we can't wait to get digging!
We'll start by helping them plant 390 trees in the Island's 1.2 acre Curry Preserve during March 2022. Over the next few years, together we'll afforest approximately 10 acres on Lummi Island. We'll also provide logistical and publicity support before and after each tree planting.
We look forward to a long and bountiful partnership with Lummi Island Heritage Trust! Want to help? Volunteers will be needed for these Lummi Island work parties. Please sign up to join us there!
The Tree Seedling Rescue Project
Rescuing & Re-Homing Tree Seedlings To Where They'll Thrive
Modelled after the successful More Trees Now foundation in Amsterdam, we intend to pilot a similar tree seedling rescue program in Whatcom County.
The idea behind it is simple: Unwanted young trees less than 3′ in height are discarded every year in our County. Why not re-home them to where they are wanted?
Think of local lands that will be cleared for development, roads, and other infrastructure. Think of deeply-shaded woods where many seedlings sprout but are unlikely to survive. Last but not least, think of residential yards where unwanted conifer seedlings appear annually and are typically yanked out and discarded by homeowners.
These very young trees could instead be carefully collected by WMTP volunteers (and donated by residents) during winter when dormant. Temporarily held in central locations, the tree seedlings can then be used in our planting projects as well as offered for free or very low cost to interested landowners. The latter could be especially ideal for neighborhoods that lack tree canopy, such as Sunnyland. It can therefore be a climate-beneficial action with environmental/social justice benefits, too.
Have several conifer seedlings (knee-height or smaller) popping up on your land? Please contact us. We won't retrieve the seedlings until Fall, but would love to build our contact list for that later effort.
Intrigued but without seedlings of your own? Consider volunteering to help us re-home seedlings this winter.
Tree Seedling Growers Network
A Terrific Project For Home or School: Grow Native Tree Seedlings For Our Cause!
Want to take part in hands-on, positive tree action — at home or school?
Plant native tree seeds that we'll mail to you (for FREE!), then care and raise them into little tree seedlings for about two years. (It's pretty easy. We'll provide full instructions to you plus email support as needed.) After two years, most will become twelve to fifteen-inch little conifer seedlings. In late Fall or Winter of their second year, we'll get back in touch to ask you to give the seedlings to us (bare root style — we'll show you how) for our planting projects and fundraising. Deal? (You can of course keep a few for yourself, if you'd like!)
Whether you have a warm window sill to plant a few in a spare container, a large pot on a deck to plant several, a small corner of a garden bed to plant dozens, or an even larger (protected) yard area to plant hundreds or thousands, we'll send whatever amount of seeds you need. Learn more about this cool program.
Legacy Tree Protection in Lake Whatcom Watershed
Protecting Critical Legacy & Old-Growth Trees — For A More Sustainable Future
Logging auctions by Washington State Department of Natural Resources (DNR) periodically occur in the Lake Whatcom Watershed. DNR manages thousands of acres of State Trust Lands and other forest parcels there. DNR's prime purpose statewide is to raise funds via logging to pay beneficiaries such as school districts and universities.

Although DNR must follows some basic rules to avoid impacts on a few endangered species and to ensure logging roads and tributaries have buffers, the end result is almost always clear-cuts followed by monoculture tree plantings which do NOT support diverse wildlife or healthy habitats — AND negatively impact Lake Whatcom's water quality. Lake Whatcom provides fresh water to 100,000+ people and is one of the very few remaining unprotected fresh water reservoirs in WA State.
Sometimes DNR clear-cuts are approved even when other nonprofits and independent observers have verified that legacy trees ("almost" old-growth, thus 80-120 years old) and old-growth (120+ years old) are present. Mature trees are the most potent natural way to address the increasing dire impacts (floods, heat domes, etc.) of climate & biodiversity crises on our community.
The 2021-2022 DNR auction process for "Bessie Lot 2" on Anderson Mountain is an example. Those specific auction instances are what Whatcom Million Trees Project seeks to change. Our recent advocacy efforts were covered by the Bellingham Herald and we are still working to have that auction cancelled.
WMTP is not anti-logging. We acknowledge that our society has a continued demand for wood. Wood products CAN be part of a more sustainable future, especially when harvested responsibly. But that is not what's occurring consistently in the Lake Whatcom Watershed.
Interesting in helping us reverse the Bessie project and others coming up in 2022? Please contact us!
Public Facilities Tree Infills
In Development: Tree Canopy Improvements — Big or Small — at Public Facility Sites
We're also assessing local government/agency sites for urban tree canopy infill opportunities. We want to leave no stone unturned, no matter how small!
For example, several engineering improvements are being planned for the Post Point Resource Recovery Plant in Fairhaven (the wastewater treatment plant) to reduce its emissions. As part of that planning process, we're working with City of Bellingham Public Works staff to explore opportunities for additional trees along the perimeter of the site, such as near the informal dog park area.
We're also assessing the tree project potential at other COB facility sites, such as the police headquarters, Bellingham Public Library sites, and City Operations Center. As we identify potential planting projects, we'll work with City staff to confirm details and reach approval. Similar efforts will begin soon with City of Ferndale and smaller cities within Whatcom County.
We'd love to hear your thoughts and ideas about adding trees at such sites. Please contact us!
Whatcom County Facilities Tree Infills
In Development: Tree Canopy Increases At a Wide Range of Whatcom County Facilities
Similar to our COB effort, we're coordinating with Whatcom County Facilities Management staff for tree infill opportunities at existing Whatcom County sites, big or small.
It's quite a handful to assess! Whatcom County operates and supports close to 1 million square feet of building space in approximately 69 buildings! Sites being evaluated range from urban to semi-rural. Examples include the Whatcom County Northwest Annex site (pictured above with Whatcom County Library's facility to the west) and various storage sites.
We'll have more to report on the possibilities here in the coming months. See a County site that you think could benefit from more trees? Please contact us!
Reforestation of Excess Industrial Lands
In Development: Enhancing the Ecological Value of Unused Excess Industrial Lands
We'd like to successfully reforest — and thus enhance ecologically — the edges of industrial lands within Whatcom County. Reclaiming those edges typically has no impact on the development needs of industrial landowners but can link together isolated tree clusters into much more valuable forest habitat. Numerous other community benefits can also occur.
Discussions are underway with industries at Cherry Point, for example. At a corporate level, some have announced long-term sustainability goals (i.e. net zero targets). We're promoting carbon credits as a way to successfully finance the proposed reforestation and to contribute to their sustainability goals.
Stay tuned by signing up for our newsletter! We will have more to announce about this soon!
Grow Not Mow Initiative
In Development: Trading Big Lawns & Unused Fields for Big Carbon Capture & Habitat Gains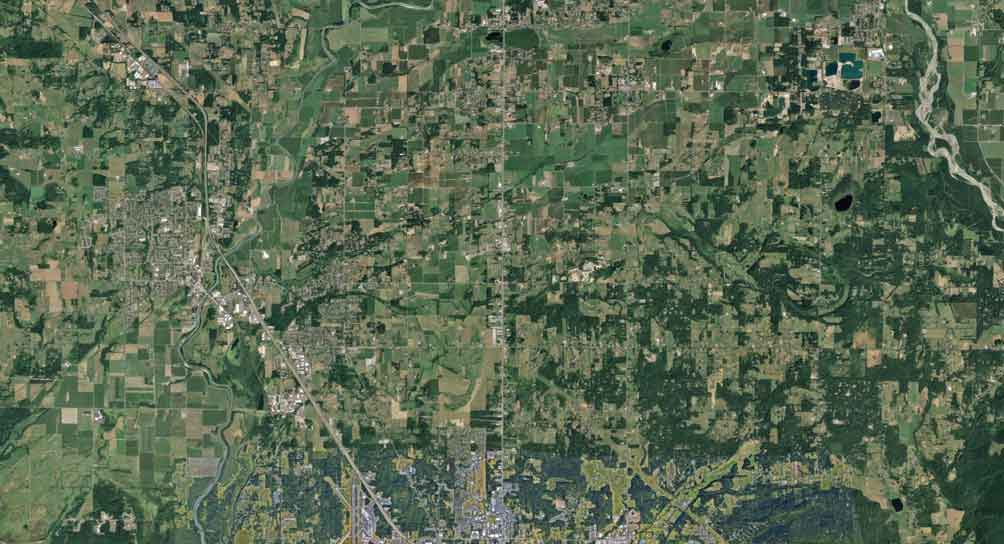 This project will be designed to financially motivate small private landowners (2 to 40 acres) in Whatcom County lowlands with large lawns and/or former/unused agricultural fields to make a long-term commitment to reforest (and add much needed pollinator plants) at least some of their open acreage.
We're looking at several ways that could occur, including favorable property tax treatment by the County and/or carbon credit marketplace revenue — if we can pool together enough properties. A similar pooling of interested small forest landowners in County lowlands could also occur.
We're creating a volunteer/intern team to work on GIS mapping, community outreach, and other initial steps of this ambitious project. This project will be in partnership with Whatcom Land Trust and other local nonprofits.

Interested in volunteering on this innovative project? Or have a County land parcel that may qualify? Please contact us!
I-5 Right-of-Way Forest Buffers
In Development: Freeway Buffering, Beautification, & Carbon Capture — All In One!
South of Bellingham, most I-5 freeway right-of-ways, center medians, and on/off ramps are forested with large conifer trees. That's part of what makes a drive north or south through there a wonderful visual experience.
North of the Bellingham Airport to the U.S./Canadian border, though, the I-5 drive is very different. Much of it is treeless. Only a few clusters of large conifers are scattered along the way. Yet, over 150 years ago (well before the freeway existed) the region was dominated by mature forests.
We see an opportunity to work with Washington State Department of Transportation (WSDOT) to plant significant quantities of conifer trees along northern I-5 freeway stretches in Whatcom County.
The total land area, although linear, quickly adds up. We're already GIS mapping potential planting areas. And we're discussing with WSDOT (and potential local business sponsors) about implementation steps in several phases over the next few years. WSDOT has done freeway tree-planting elsewhere and their regulations support that possibility, so the idea has good precedent.
We'll have more to report on this project in the coming months. Interesting in helping us plan or plant this project? Please contact us!
More Projects Will Be Announced Soon! Please Donate Today to Support Our Million Trees Mission